TTP nih Bu pakhat Sernak
4. THIANG THLARAU PAHTIAN NIH NU BUPI PAKHAT LAWNG A SERHNA
    "Kannih Khrihfa mi hna nih lamkaltu hna kha kan i zohchunh awk asi. Aruangcu; Jesuh Khrih pakhat lawngah siseh, Bupi pakhat lawnglawng ah siseh kannih vialte cu annih he hmunkhatte kan si caah asi" tiah Avilla i mithiang Johan nih a rak `tial.7  Solomon Hla 6:9 ah "Ka zohzun leengnu le a `thuro hmete, pakhat lawng um ai ri" timi bible ah kan hmuh. Cuti a sak tikah khamhtu Jesuh Khrih cu a fanu ngeihchun asimi a ngeihchun bupi kha sawh duh in a chimmi asi kha Avilla i mithiang Johan nih a langhter.8 Thiang Thlarau Pathian cu `hencheunak hna kha ralchanh dirpinak upadi sinak aser asilo. `Thencheunak dihlak kha Bawipa Jesuh ah pumkhat asiter mi Bawi asi. 
St. John nih a `ialmi thawng`ha bia ah Bawipa Jesuh Khrih cu Thiang Thlarau Pathian kha a chimnak ah lungnget lungrualnak, hmunkhatte pumkhat sinak i Bawi asinak kong abiapi in a chimmi kan hmuh.9
    "An dihlak in pakhat an sinak hnga thla ka cam. Ka pa, keimah cu nangmah chungah ka um i nangmah cu keimah chungah na um bantuk hin annih zong ka chungah umve hna seh. Nangmah le keimah cu pakhat kan si bantukin pakhat an si khawh venak hnga sunparnak na ka pekmi kha ka pekve hna. Kannih cu pumkhat kan si bantukin, kei cu an chungah ka um i, nangmnah cu ka chungah na umnak thawngin annih cu pumkhat an si i, hmunkhatte pumkhat sinak ah rak tlinter hram ko (Jn. 17:21-23).
    Cunglei i Bible caang ahhin Thiang Thlarau Pathian min a langhter lo. Cuti asiahcu Thiang Thlarau Pathian rian`tuannak cu zeitindah kan theihkhawh lai. Asiloah, Pa le Fapa pumkhat sinak cu kuttongh fonhnak a ngeilo mi, kuttongh in aa tongh pehtlaihnak a umlo mi pumhkhawhnak phun asi maw? Pa le Fapa hna cu pumkhatte ansi kan titikah zeibantuk pumkhat sinak khi dah a chim duh hnga" Pa le Fapa hna cu pumkhat ansi bantukin Khrih zumtu hna zong pumkhat asilai kan ti ahhin zeibantuk pumkhat sinak kha a chim duh? Minung hna cu khi bantuk pumkhat sinak kha mah fimnak le thazaang `thawnnak in serkhawh asi lai maw?
    Pa, Fapa, Thiang Thlarau cu thumkomh Pathian asi timi zumhnak biathuk kha hmasabik ah kan ruah`han hna lai. Pa le Fapa cu Thiang Thlarau he hmunkhatte in pumkhat asi bantukin Jesuh Khrih kha khamhtu asi tiah a pomtu pohpoh zong pumkhat an sinak hnga Jesuh hrimhrim nih thla a rak cam. Khi bantuk pumkhat sinak kha sak dingah minung thazaang nih a tuah kho lailo. Khi kong `thatein a hngalhtu Bawipa Jesuh nih Thiang Thlarau ka rak thlah te lai tiah bia arak kamh hna, Bawipa Jesuh Khrih nih a chimmi cu:
    "Ka pa kha ka hal lai i, biatak kha hmuhsaktu Thiang Thlarau timi bawmtu saya (Paraclete) pakhat an pek hna lai i a zungzal in an umpi hna lai. Ka Pa nih ka min in a run thlah lai mi Bawmtu saya (paraclete), Thiang Thlarau nihcun zeizong vialte kha an cawnpiak hna lai i kan chimhmi vialte hna kha nan lung an pemter hna lai" (Jn. 14:16, 26).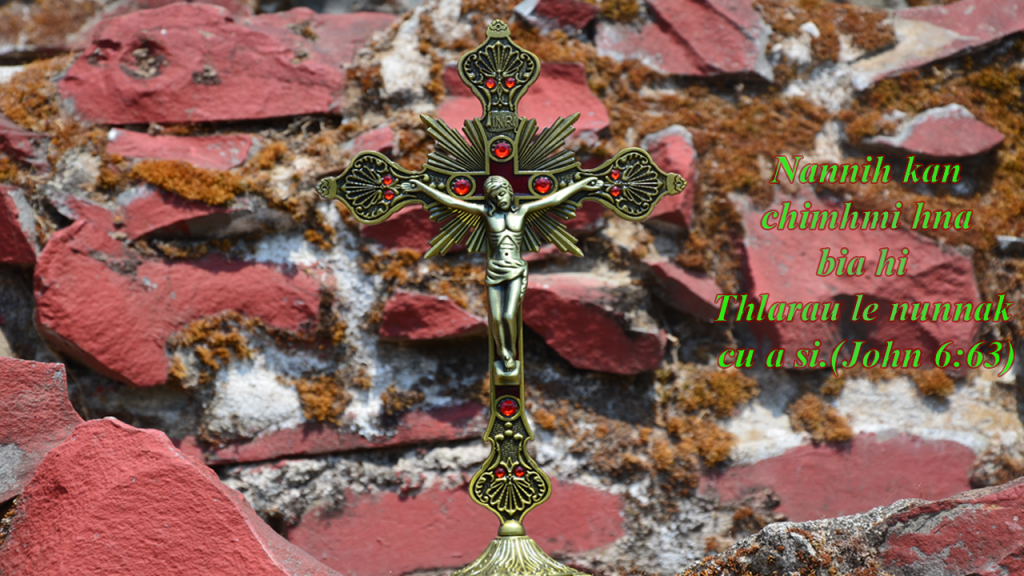 A cunglei i Bible caang hi kan zoh ahcun, atanglei konglam hna kha fawi tein kan lak khawh lai i kan theih khawh lai.
(a) Zumhnak ah pumkhat sinak: Pumkhat sinak cu biatak.bible he aa pehtlaih. Thiang Thlarau Pathian cu biatak a cawnpiaknak thawngin Khrih a umtu vialte hna kha Pa le Fapa hna bantukin pumkhat ah a canter.
(b) Biatak a umnak hmunah bawmtu saya asimi Thiang Thlarau zong a um zungzal i, kha biatak a zumh i a cohlanmi pohpoh cu Pa le Fapa hna bantukin pumkhat sinak nawl kha Thiang Thlarau nih a pek hna. Phundangin cun, Thiang Thlarau  Pathien cu biatak kha a cawnpiaknak thawngin Jesuh Khrih a zumhmi vialte kha pumkhat ah a siter hna.
(c) Khrih a zumhmi pohpoh cu pumkhat an sinak thawngin Pa Pathian cu Fapa kha hi vawlei ah khamhtu pakhat sinak in na thlah asi kha vawlei mi nih an thiehkhawh an zumhkhawh lai (Jn. 17:21).
(d) Zeibantuk hmunkhatte umnak, pumkhat sinak khi dah a chim duh? Khrih a zumtu vialte pumkhat sinak cu mitin hmuhkhawh mi (Visible Unity) pumkhat sinak asi. Aruangcu, Khrih a theih rihlo mi hna, a zaumh a pom rihlo mi hnak cu zumtu hna i pumkhat sinak, hmunkhatte umnak kha an hmuh tikah, Jesuh Khrih kha khamhtu pakhatte a sinak kha hnatlak in an chohlan khawh lai, tiah Jesuh Khrih nih hitihin a rak chim.
    "An dihlakin pakhat an sinak hnga thla ka cam. Ka Pa, keimah cu nangmah chungah ka um i nangmah cu keimah chung na um bantuk hin an dihlak zong ka chungah umve hna seh" (Jn. 17:21).
    Thihnak in a thawh`han hnu ah, ni sarih ah nikhatnak ni (zarhpini) ah, Bawipa Jesuh cu a zultu hna sinah a pum a langh i, "Nan cungah daihnak umko seh" tiah voihnih khengte a chim hnu ah:     Cubia cu a chimdih in a thaw a chuahhnawh hna i, Thiang Thlarau kha hmu ko uh, mi kha an sualnak nan ngaihthiam hna ahcun ngaihthiam an siko, nan ngaihthiam hna lo ahcun ngaihthiam lo an siko" tiah a ti hna (Jn. 20:19-22).
    Cuticun bia a rak kamhmi Thiang Thlarau kha zultu hna cungah a rak toih. Hi konglam cu mithiang John thawng`habia ah a `ialmi Thiang Thlarau toihnak asi.10
    A cunglei i bible caang kha ruatin kan zoh tiakah, daihnak, sualnakin ngaihthiamnak le bibe cawnpianak hna cu hmunkhat pakhatte sinak ah a umlo wk a `thalo mi `tengnge (sining) hna an si. Pa le Fapa cu Thiang Thlarau he pahat an si bantukin zumtu Khrihfa hna zong pumkhat sinak dingah zungzal in Thiang Thlarau nih a sak.11
    Bawipa Jesuh pekmi daihnak cu a zummi dihlak pumkhat pakhat sinak caah a um awk asi hrimhrim mi `tengnge pakhat asi.12 Jesuh Khrih pekmi daihnak kan ti tikah pakhat le pakhat le pakhat hnatlaknak, lungngetnak, i fonhnak, takpum pakhatte sinak, ralchanhn hrihnuh umlonak, `thennak, a dangdang in dirnak hna umlonak tiin a kautuk mi sullam a ngei.
    Culawng sirihlo, Bawipa Jesuh Khrih pekmi daihnak cu thinlung daihnak, Khrih thawngin Khrih ah Khrih he hmunkhat in a daimi nun ningin nunnak, mah nunnak i tonmi pohpoh harnak buainak hna kha zumhnak thawngin kan hmuhmi `hawnnak thazaang he lung daitein lonhnak, midang he rem daihnak, innchungkhar ah daihnak, Bupi dihlak daihnak in hi vawlei cungmi vialte daihnak asi.
7John of Avilla, The Holy Ghost, trans. Ena Dargan (Chicago; Scepter, 1959, 11
8 Ibid.
9. See Mather loving, engaging the Doctrine of the Holy Spirit; love and gift in the Trinity and the church, (Michigan, Grand Rapids: Baker, 2016), 267-308)
10 James D.G. Dunn, The Christ and the Spirit, vol.2: Pneumatology (Edinburgh: T&T Clark, 1998), 210-242.
11 Cf. Matthew Levering, Engaging the Doctrine of the Holy Spirit, 280-281)
12 Ibid.